A sense of being lost in the time and space of the Kamakura period
The cut-through is about 1 km long.
The chisel marks of the period are clearly visible on the walls of the cutouts on both sides.
It features a stream flowing along the road and a spring at Kumano Shrine, which is known as a power spot.
It was considered the steepest of the seven cut-throughs known as the Kamakura Shichikuchi.

Be sure to stop at the Kumano Shrine on the way.

The following is a list of the most common problems with the
JR Kamakura Station – 13 minutes by bus – Junisho Shrine bus stop – 10 minutes – Saburo no Taki Waterfall – 20 minutes – Ruins of a tea store and an important cut-through – 3 minutes Kumano Shrine junction – 5 minutes – Kumano Shrine – 5 minutes – Kumano Shrine junction – 7 minutes – Asahina cut-through entrance

The following graphs show round-trip times.
The first half of the hiking course is a gradual ascent, accompanied by the murmuring of spring water.
You can enjoy the chisel marks of the cuttings on both sides and the ferns.
It takes about an hour to head for the Asahina-side exit after visiting the ruins of a teahouse with a Buddha cliff and the Kumano Shrine, which is located in a secluded area.
Please enjoy going back and forth.


From Junisho Shrine to Tachiarimizu, Saburo Falls, Kumano Shrine


Even if you take a rest at Kumano Shrine, the journey takes about 50 minutes.
The course is rich in spring water, and the stream water flowing along the path is pleasant.
There is a cluster of bush ginger along the side of the approach to Kumano Shrine, which also attracts many photographers in August.


Kumano Shrine tucked away in the mountains
A spring is boiling by the side of the main hall, and a ladle is available for visitors to draw water.
Urashima grass also grows around the main hall, and in season you can see the flowers with fishing poles extended.
Junisho Shrine alighting to Asahina bus stop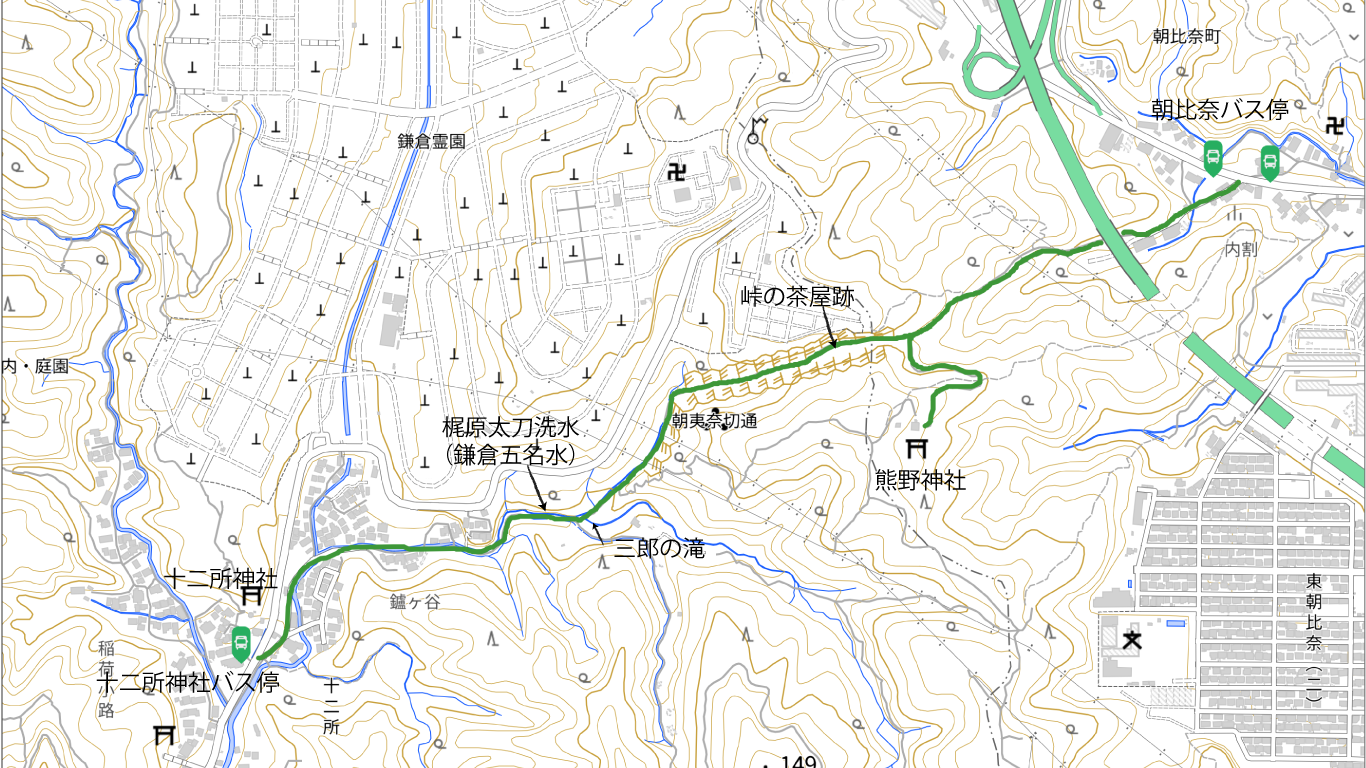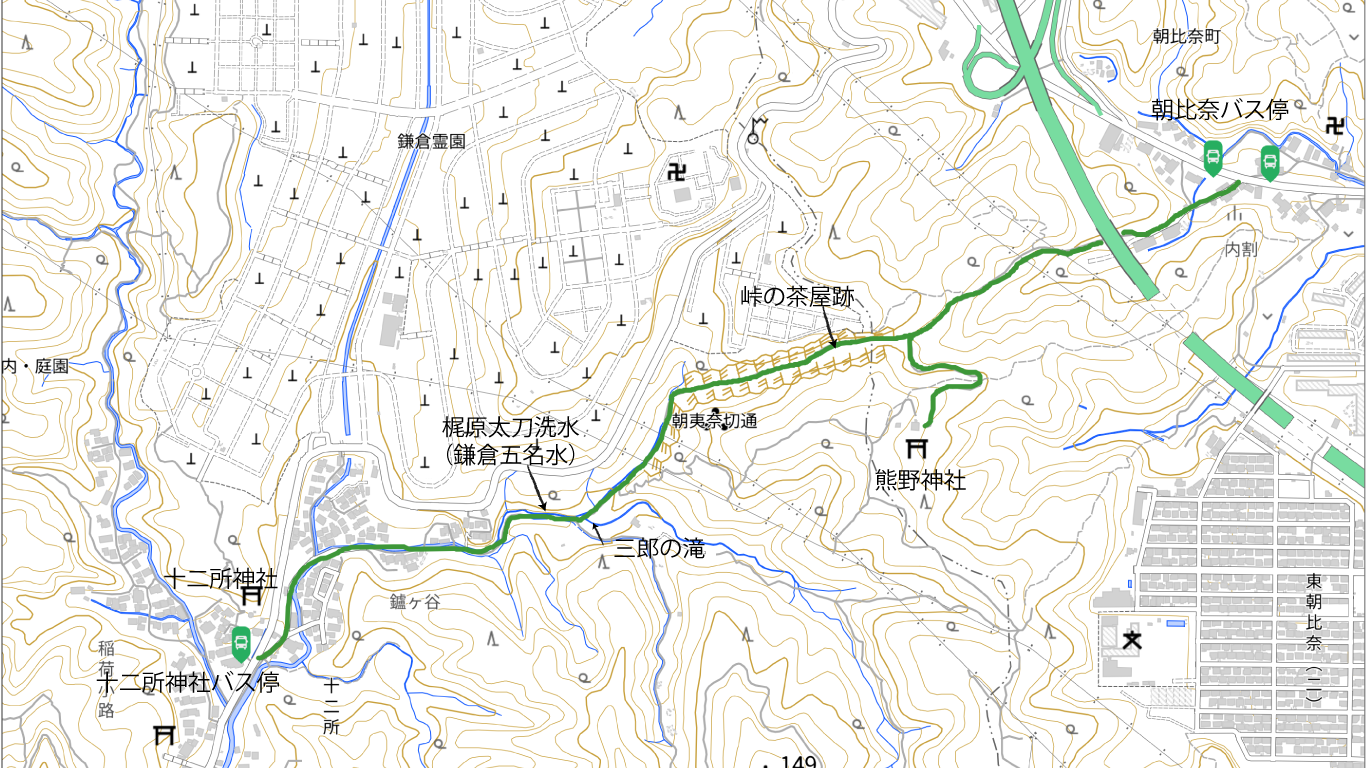 Where to Buy Beverages
Kamakura Station
Junisho Shrine Alighting Vending Machine
Access to the entrance on the Kamakura side of the cut-through
From Kamakura Station East Exit Bus Stop #4
Keihin Kyuko Bus
Timetable for Kamata 23 and 24
Bound for Kanazawahakkei and Kamakura Reien Exit
After about 13 minutes, you will arrive at the Jujisho Shrine.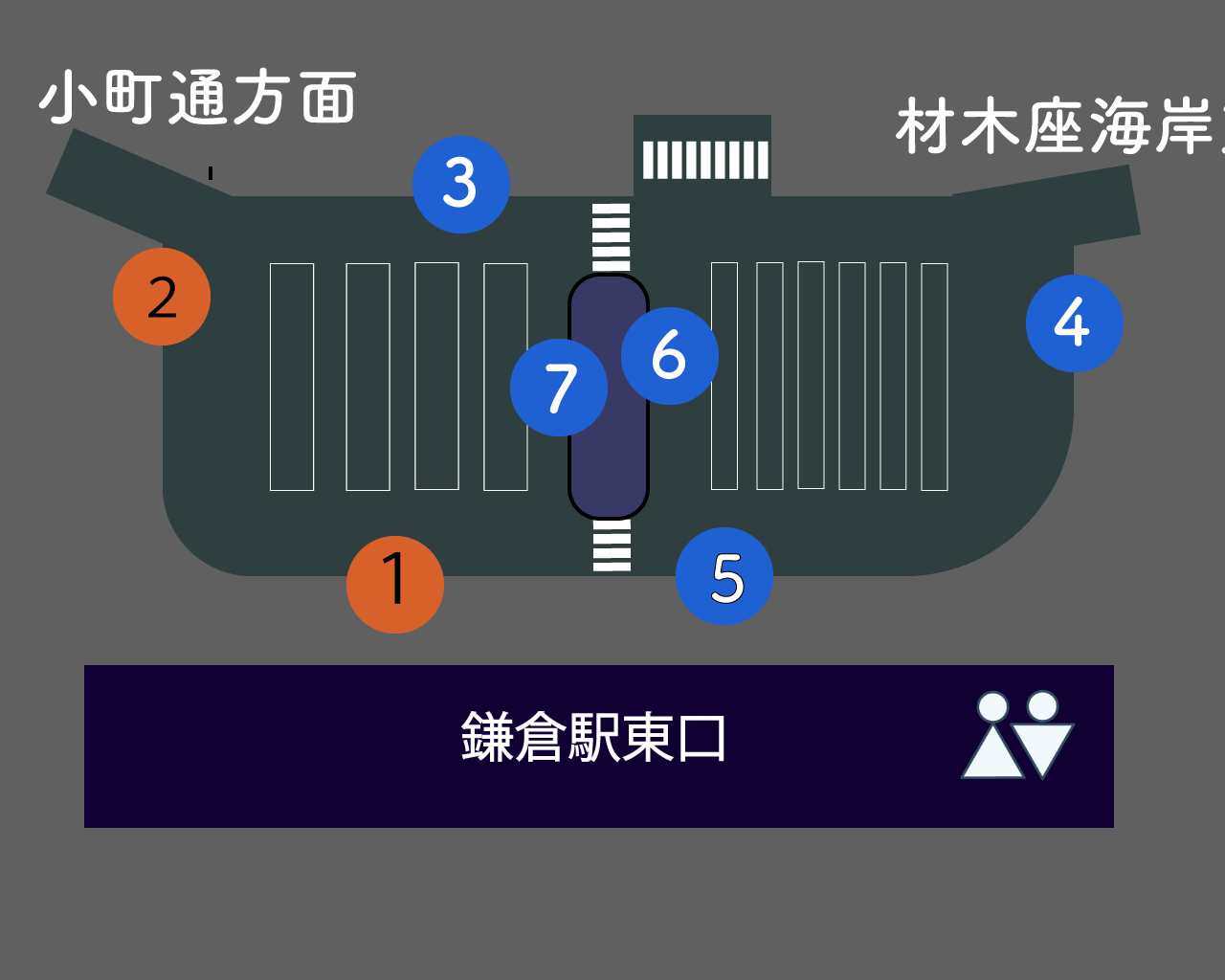 As soon as you get off the bus at the Junisho Shrine bus stop, you will see an information board.
Go straight along the path along the creek.
There is no restroom on this course. Kamakura station is the last stop before boarding the bus.
When heading to Kanazawahakkei Station on the Keihin Kyuko Line
Kanagawa Chuo Kotsu Bus bound for Kanazawahakkei Timetable
Ship 08 system
Gold-25 system
From the Asahina bus stop, it takes about 11 minutes to reach Kanazawa-Hakkei Station.
This is the exit of the cut-through and Kanazawa-kaido road.
Cross the road and immediately on your right is the Keikyu Bus stop for Asahina Kanazawahakkei.
Since there are only two runs per hour, please adjust your time at the Kumano Shrine.
From the shrine, it is about 20 minutes.